From This Day
Forward
Marriage Preparation Program for Engaged Couples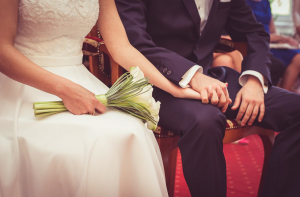 Congratulations on your engagement!
Thank you for your interest in our marriage preparation programs. The pandemic has surely presented new obstacles and challenges as you prepare for your marriage. We hope that these can become building blocks that will help to form a strong foundation for your life together. We have adapted our course and taken it online to continue to our mission of preparing couples for marriage in the Catholic Church during the pandemic. All courses will be offered online until further notice. We are excited to get to know you and to help prepare you for your marriage! For more information, please contact the Centre for Marriage, Life and Family by email at centredmvf@diocesemontreal.org
The decision to marry is one of the most important decisions that anyone can make. Usually, couples marry because they have fallen in love, but learning to love, as opposed to being in love, takes a lifetime. Couples need instruction and practice in living skills – skills that are learned rather than intuitive. This marriage preparation program will provide couples with the opportunity to practice some of the skills necessary to have a successful marriage.
SCHEDULE & INFORMATION
2020 – 2021
2020
Weekend
September 4, 5, 12
October 16, 17, 24
November 27, 28, December 5
Weeknight
November 2, 9,16, 23, 30 (Monday evenings)
2021
Weekend
January 22, 23, 30
March 19, 20, 27
April 9, 10, 17
May 1, 8 , 15 ( Saturdays only)
June 11,12,19

Weeknight
February 1, 8,15, 22, March 1 (Monday evenings)
Timetable:
Weekend sessions
Friday – 7:00pm to 9:30pm
Saturday 1 – 9:00am to 5:00pm
Saturday 2 – 9:00am to 5:00pm
Saturday sessions in May
Weeknights
"Space is limited"
Where:
Archdiocese of Montreal
2000 Sherbrooke Street West
Montreal QC H3H 1G4
Cost:
$250 per couple payable upon submission of registration.
Registration is on a first-come first-served basis. Kindly note that no couples are refused for lack of funds.
Payment:
You can pay by credit card or Paypal or mail payment to:
Diocesan Centre for Marriage, Life and the Family – Marriage Preparation,
2000 Sherbrooke St. West, Montreal Qc H3H 1G4
Please make cheque payable to: CACRM – Diocesan Centre for Marriage, Life and the Family
Please note that cancellation refunds are subject to a $25 administration fee. For assistance with a cancellation, please contact us or call us at (514) 925-4300, # 206.  
For information: Diocesan Centre for Marriage, Life and Family